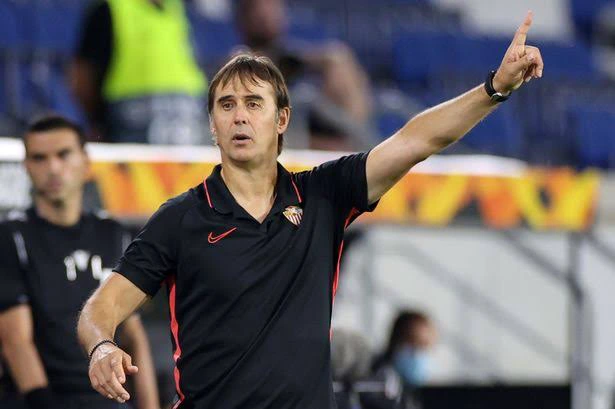 Sevilla advanced to the semi-finals of the Europa League, after a narrow 1-0 win over Wolves on Tuesday. They will face another English club in the semi-finals, Manchester United.
And after the win, the Sevilla boss Julen Lopetegui is quite confident that they will be more than competitive against Manchester United. Lopetegui said that he has immense respect for the Red Devils, as he considers them to be the 'best in the world', but also made it clear that the Spanish club is ready for the challenge.
"We are going to play, against Manchester United in the next match – they're the biggest team in the world but we're going to be prepared for them," Lopetegui said in the post-match press conference.
"We're focused on the next game, against a top, historic side, one of the best in the history of the sport who are in great form," he said. The Sevilla boss also added that he knows it will be difficult, but his players will give it all and believe that they can topple the Red Devils.
Sevilla had the lion share of the ball with a whopping 76 percent, but they created very few chances. But Lopetegui is not concerned about that and says that his team deserved to win. Incidentally, Wolves striker Raul Jimenez also missed from the spot in the first half.
"I am very proud of my, players because we were against a very good team. We needed to have the ball and not make mistakes because they have very fast forwards," the former Real Madrid manager concluded.
Manchester United, also scrapped past Copenhagen in the quarter-finals with a penalty that was converted by Bruno Fernandes at extra time. Ole Gunnar Solskjaer's team have clearly improved a lot since the resumption of the football, and are the favorites to win the Europa League. They won the tournament in 2017 and will be willing to repeat that again this season.