Just a few days ago, Reps summons DStv over price increment in the subscription packages, Shortly after , DStv has further reviewed the prices of Compact/ Compact Plus Upward.
In a recent notification to her customers, Which reads; Dear Customer, please be advised of a price adjustment on your DStv Compact Plus package from 1 September. Your new monthly subscription will be N12,400.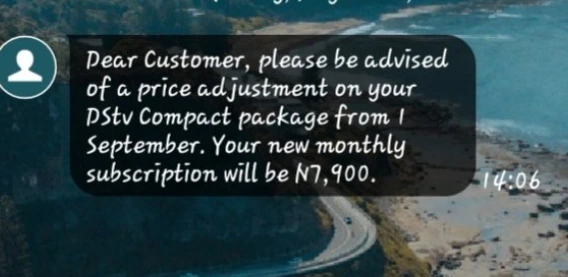 For instance, a Compact Plus Package which comes at a monthly subscription of N10,925 will now go for N12,500. The compact package will now go for N7,900 from the initial price of N6,975. While DStv premium subscription is now N18,400.
However, Nigerians are not happy about it, complaining of paying too much but receiving less than what they pay for. Some of resolved to be streaming football online.
See Nigerians reactions to this effect.
Just yesterday, few customers were considering Using Netflix livestream as an alternative to Cable TV, today DSTV increased their subscription packages again. Like say na only them the pandemic affect- Shey it's to watch football, no worry, we go dey livestream henceforth.
— Wale Adetona (@iSlimfit) August 21, 2020
DStv has successfully bribed lawmakers in this country for this impunity to continue. Some people in government raised the issue of the costly price for DSTV bouquet, now no one is talking price is up again. Please we need #dstvpayperview , retweet if you are concerned #bbnaijapic.twitter.com/7rJcJKiaW1— odubayo Nathaniel (@natoodus) August 21, 2020
Not every DSTV dish you see in people's houses are working, some are there just to block thunder! 😜😂#LayCruiser— Vócláìn LD™️✴️ (@iam_Voclain) August 21, 2020