GEJ: "When I leave office you will all remember me". See Savage responses to This Reno's Tweet.
In a tweet, Reno Omokri, the former presidential aide to ex-president Goodluck Ebele Jonathan shared a photo on twitter, which he captioned "When I leave office, you will all remember me." This was an attempt to compare the previous administration (which he took part in) and the present administration of president Muhammadu Buhari.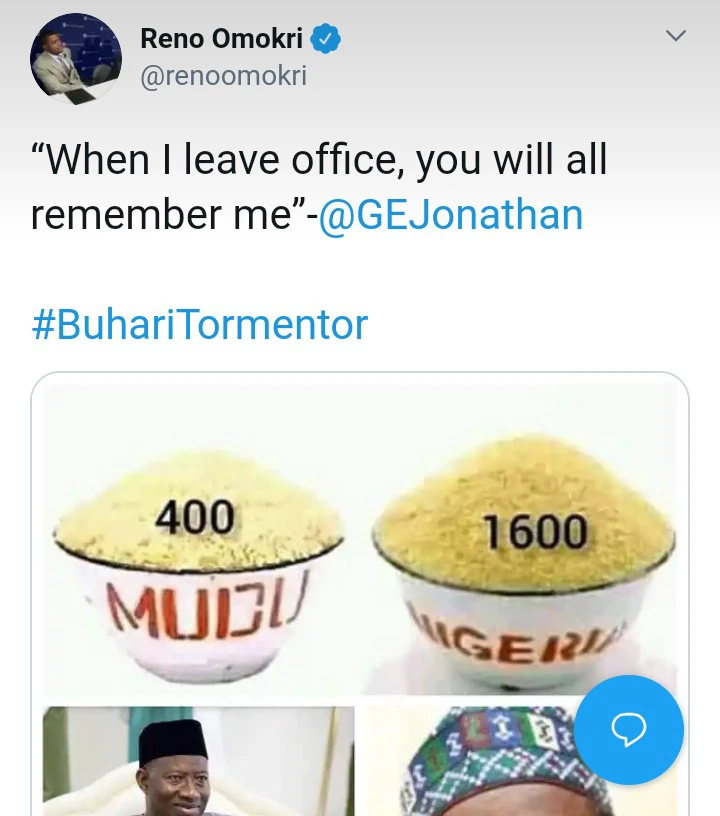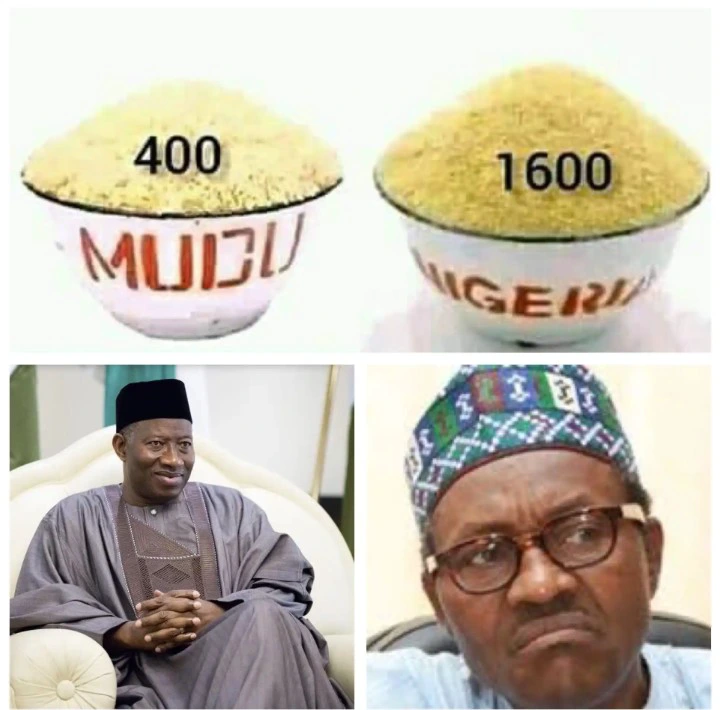 The tweet which was a quotation of the former Nigerian president, together with an edited photo of president Muhammadu Buhari and Goodluck Ebele Jonathan, drew the following savage responses:
Everything in Nigeria is high like someone who inject alcohol in his system! Food high, fuel high, Buhari high, governance high , insecurity high, corruption high, killing high, ,impunity high! @MBuhari call me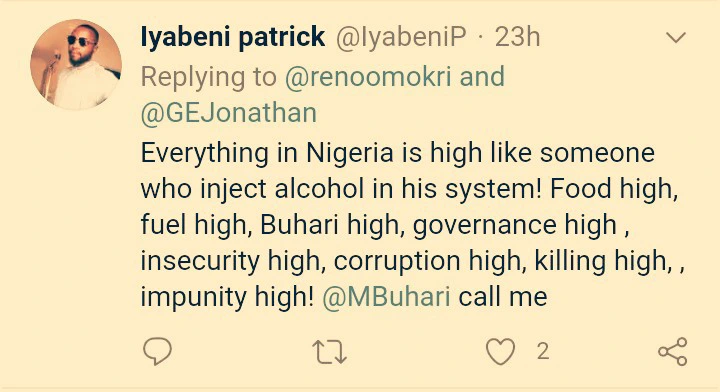 Bros Mr @renoomokri you said it ain't polite to address someone you are talking to for the first time by their first name. As much as its painfully true please sir don't rub it in…its makes the pain and anguish severe.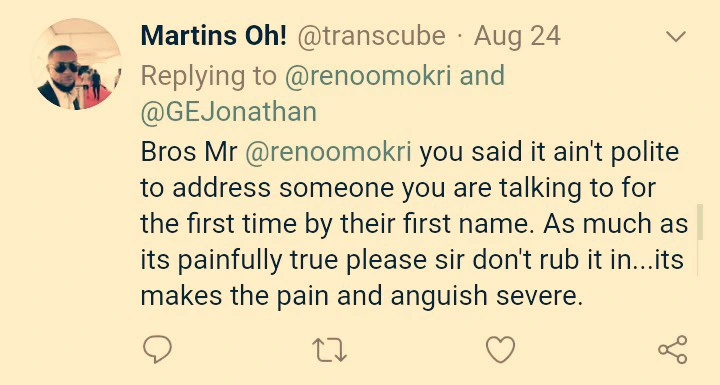 Sad and sad, Jonathan's poor leadership made the vast majority to choose the devil himself. If Jonathan and PDP had only done a little more than they were doing, some reasonable Nigerians had the feeling APC is a packaged lie. But…
Reply: If I remove the last two letters from your name, wetin go remain? (Olodo) Good, that na wetin u really be.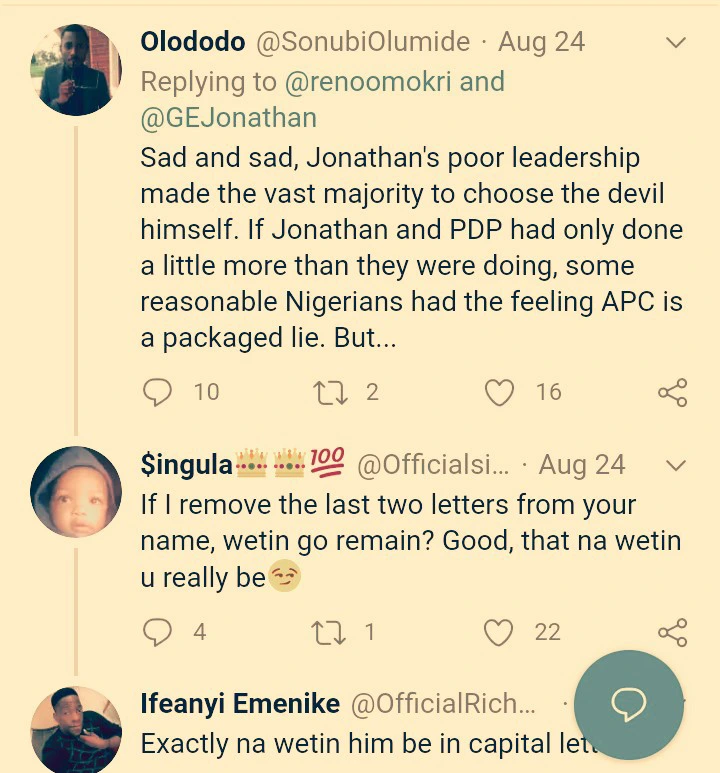 Sir you got the price right, but the content?The one d market has got black particles as well as stones, & are no where near this in colour… God bless we the inhabitants of Nigeria according to our patriotism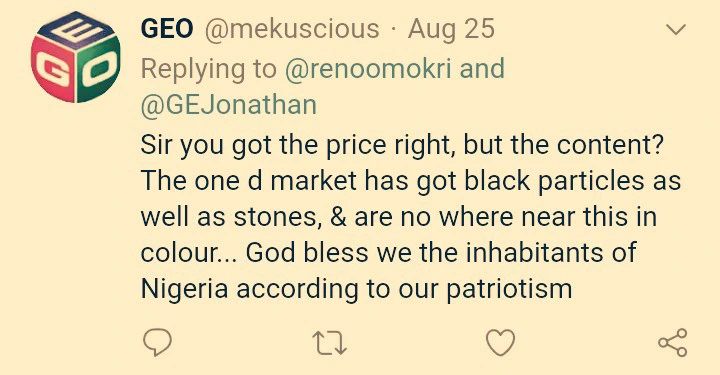 @renoomokri in as much as this administration has failed, previous administration also failed. A fail is a fail regardless. Be it 45% or 3%. Both are fail.
Imported Rice is now 2700 while naija own get grade , stone age 1.8 stoneless but not too good for jollor 2.1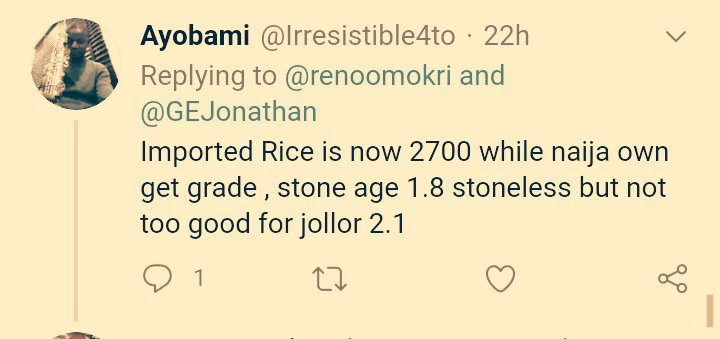 Obasanjo, Jonathan, Buhari including you Reno thunder fire all of you, if not that we Nigerian youth are too busy to make the end meet for ourselves and the issue of religion and ethnicity that is affecting us all of you guys should have know what it take not be selfish.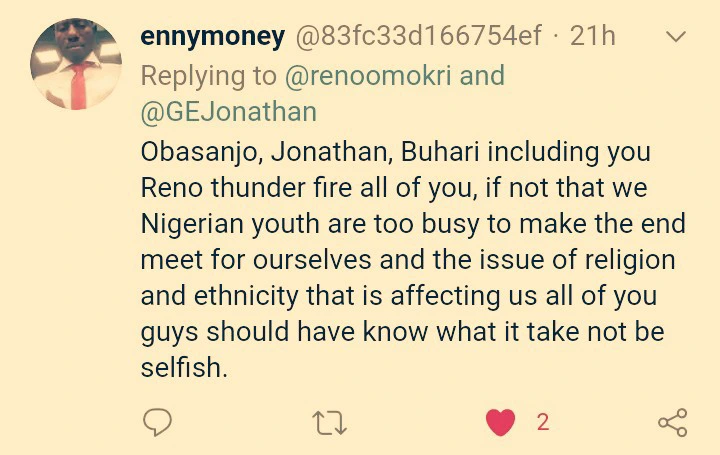 Even if you allow one Olodo here to set an exam questions for himself, he will still fail it,when the difference is clear from the pix above , Olodo is still blaming GEJ for his hunger. Olodo pls have sense!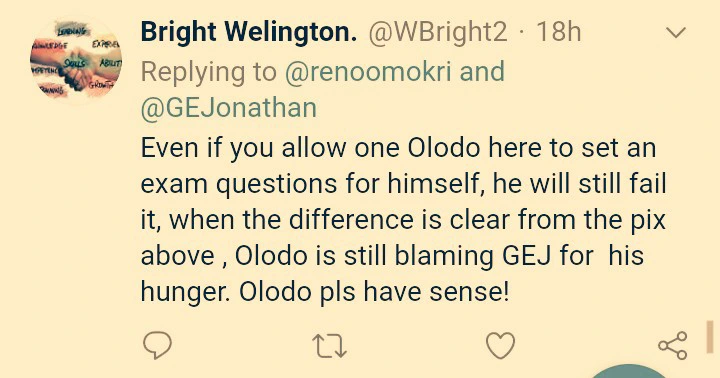 But is this all, Sir? We can't buy anything with N5, not even biscuits or sachet water so it's PMB's bad governance! Good governance includes virtually everything and shouldn't be measured only by prices of food items.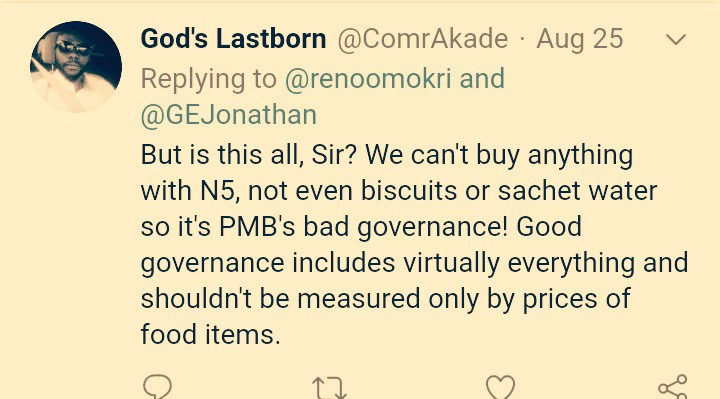 People are hungry, some idiots will be telling me about train. Does an hungry man boards train. Rubbish…. In just 5 years, price of everything has tripled and you are still rooting for this government??? Shame on buharideens. Keep suffering and smiling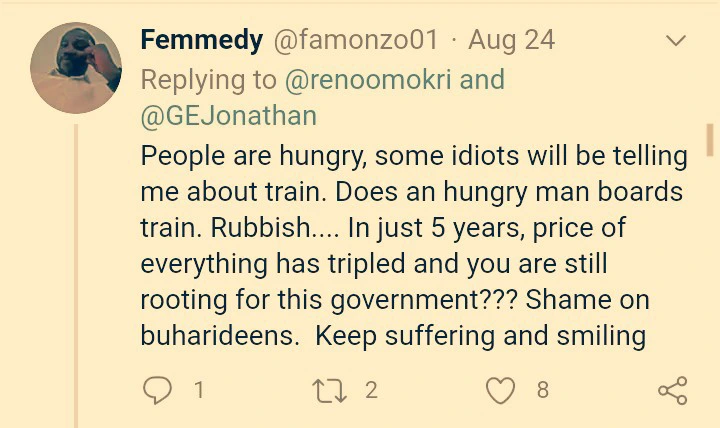 Based on your observations, who do you think, in your opinion is the best amongst these two leaders?
Let me know your views by making use of the comment section below. Don't forget to like and share with friends