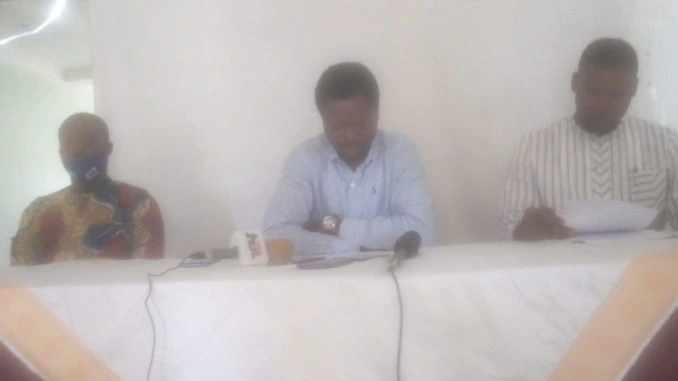 As calls for the reinstatement of over 2,500 workers whose names were erroneously removed from the payroll of the Cross River State Government continue to fall on deaf ears, the aggrieved workers are gearing up for an all out showdown with the government.
The affected workers, who addressed a press conference in Calabar on Friday, handed a 7-days ultimatum to the state government, saying failure to meet their demands, the group would be forced to stage a massive protest that would last for one week.
In their joint address, Comrade Paul Ajie Abang, Comrade Agbor Francis, Comrade Williams Odey and Comrade Prince Asuquo Akposi, who represented the sacked workers from the different Ministries, Departments and Agencies, stated: "It's now almost one year and a month since we were forcefully and illegally removed from Cross River State payroll by the governor of Cross River State, Prof. Ben Ayade, which goes against labour law and best practices anywhere in the world.
"You would recall that our delistment was effected on the month of September, 2019 without cogent reasons and prior notification by the government. Sadly, over 2,500 staff were affected. We were not paid our statutory salary. The year under consideration has been quite challenging for us. As breadwinners in our families, we have not been able to carry out our responsibilities. We can no longer wallow and die in silence."
Making their demands, the workers said: "Therefore we are demanding that we should be reinstated and fully paid all our salaries and entitlements. The demand above should be met within seven working days from the broadcast of this press release. If the aforementioned demands are not met within the time frame, we the affected staff shall take action not limited to a seven day peaceful protest, and other measures under the precinct of the law."
Meanwhile, Comrade Paul Ajie Abang, who is also the State Chairman of the Niger Delta Activists Forum (NDAF), said that the Forum, which is a civil society organization operating in the Niger Delta region, seeks to address issues of injustice, hence it was in full support of the workers who were demanding for their rights.
Abang stated that the NDAF would work alongside the dismissed workers to interface with relevant bodies to ensure that the workers got what was due for them, adding that should consultation and consolidation failed, the group would massively mobilized for total showdown with the state government.
He also called on well-meaning individuals in the society to appeal to Governor Ben Ayade to listen to the cries of the aggrieved workers, saying the buck stops on his table.