Vee is one of the big brother Naija housemate, who says her mind whenever and however it comes to her.
For sometime lots of her fans have been complaining of how she relates with people especially her fellow housemates. Even when Erica was around she was Known for having a clash of words with her and other housemates.
There are times that you speak what's in your mind, as it shows a sense of maturity to avoid one keeping malice or holding grudges. But at the same time, it is not always advisable that you say things the way they appear. When you study the environment it should be able to tell you if what you are about to say will be of help or will end up causing chaos.
What she Told Kiddwaya today was the final, as her fans and many online viewers who watch the Big brother Naija TV reality show believes she has crossed the line, as people see her as a bitter person.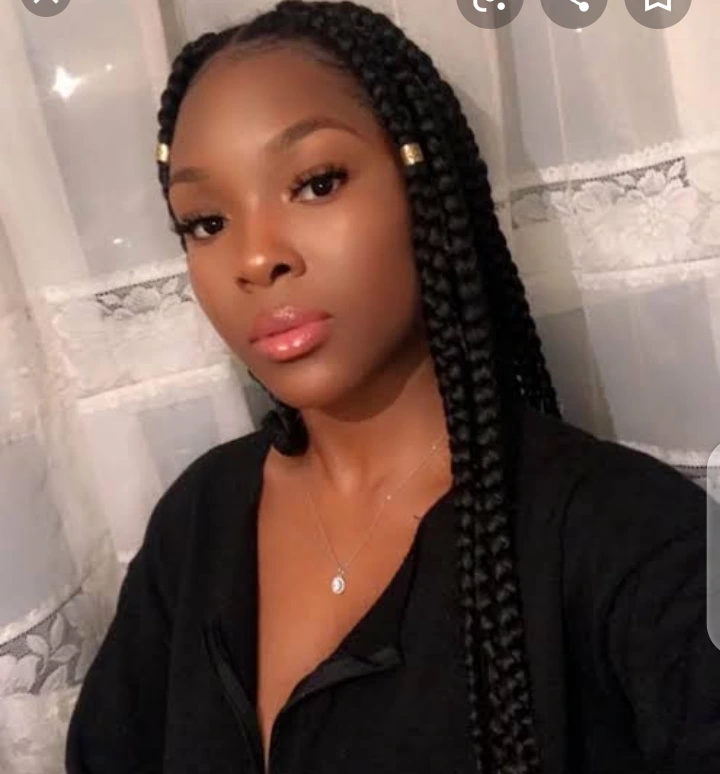 Today vee made a statement that can be tagged as body-shaming an individual, even though Kiddwaya might have taken it lightly many fans believes it a live show, and making such a comment was totally wrong she called him "Fat fVck' who would like to bear such kind of name.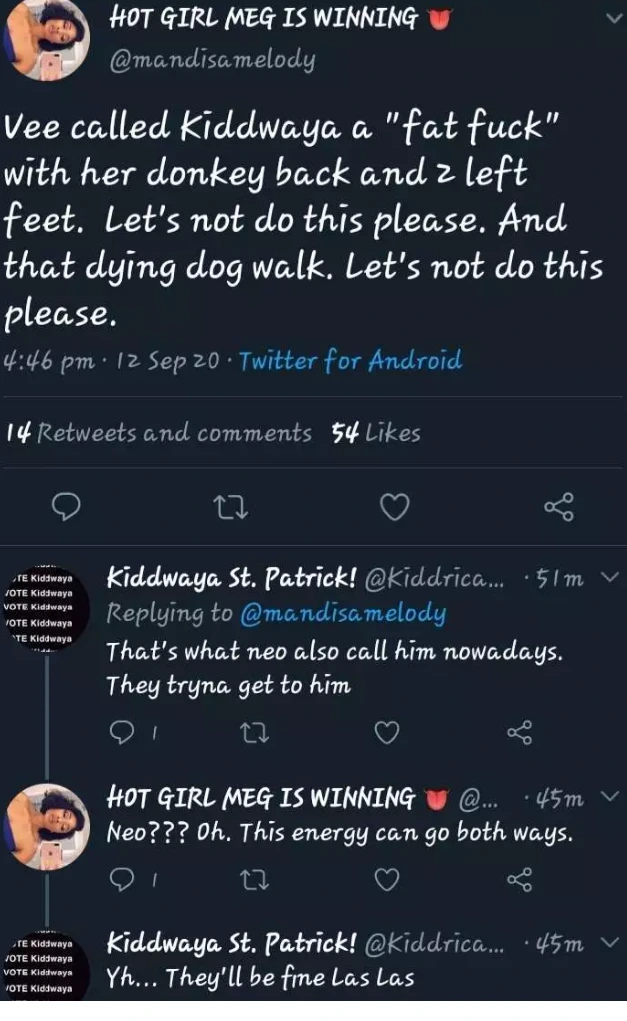 See how fans are reacting as they slam her online.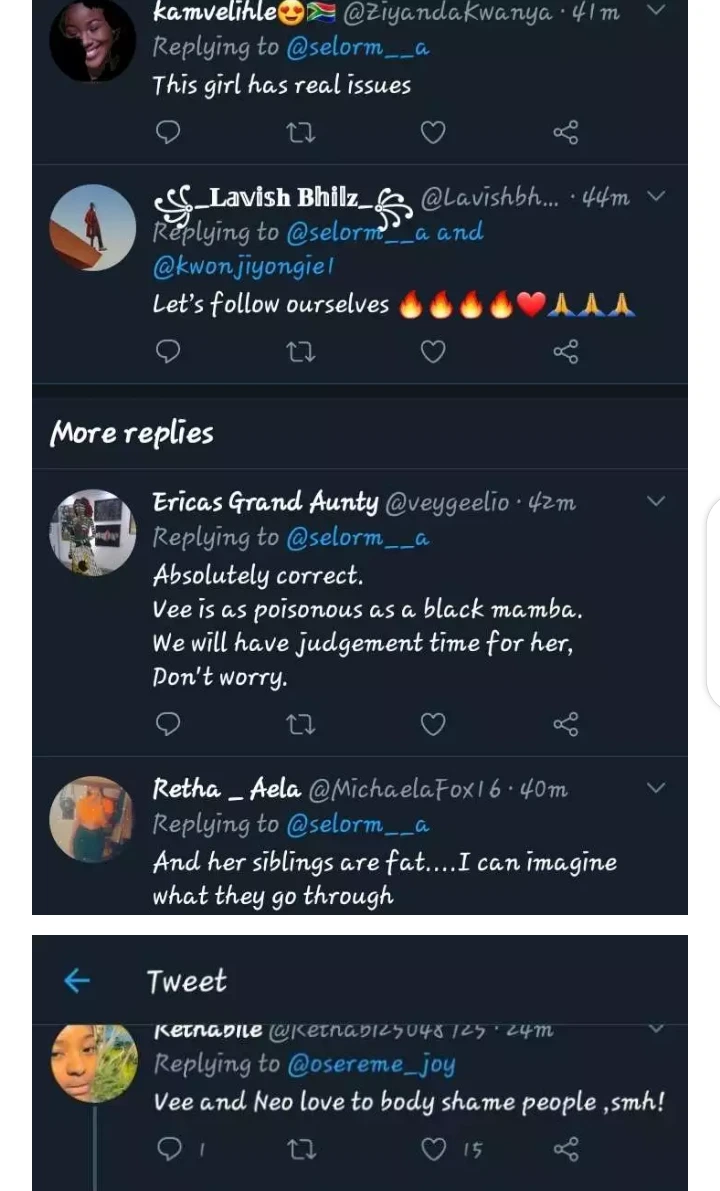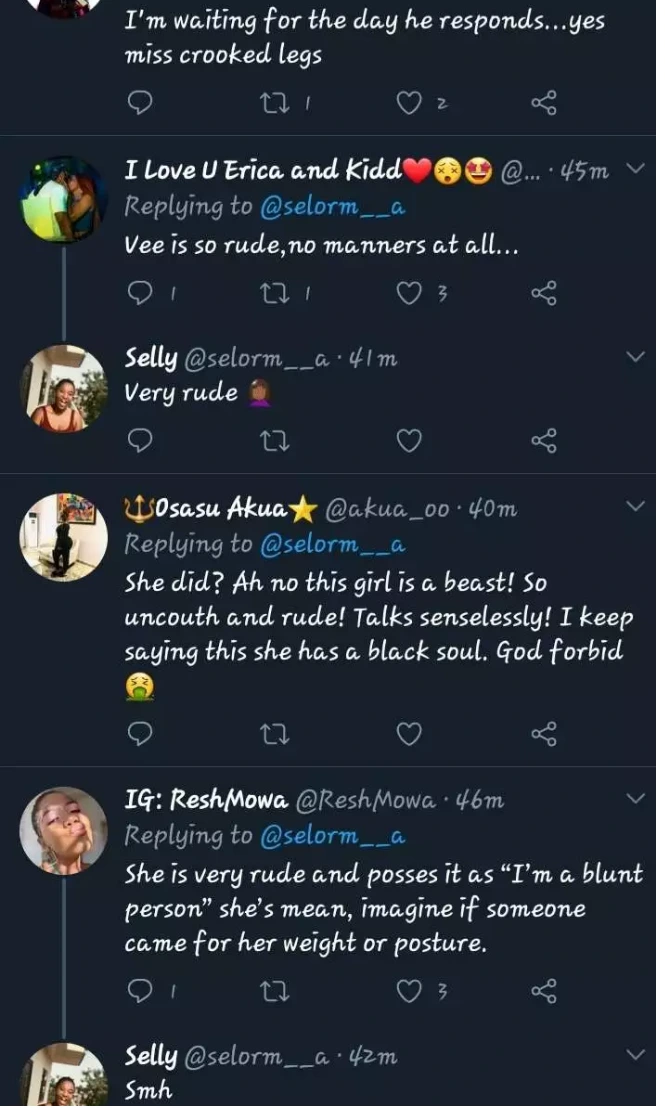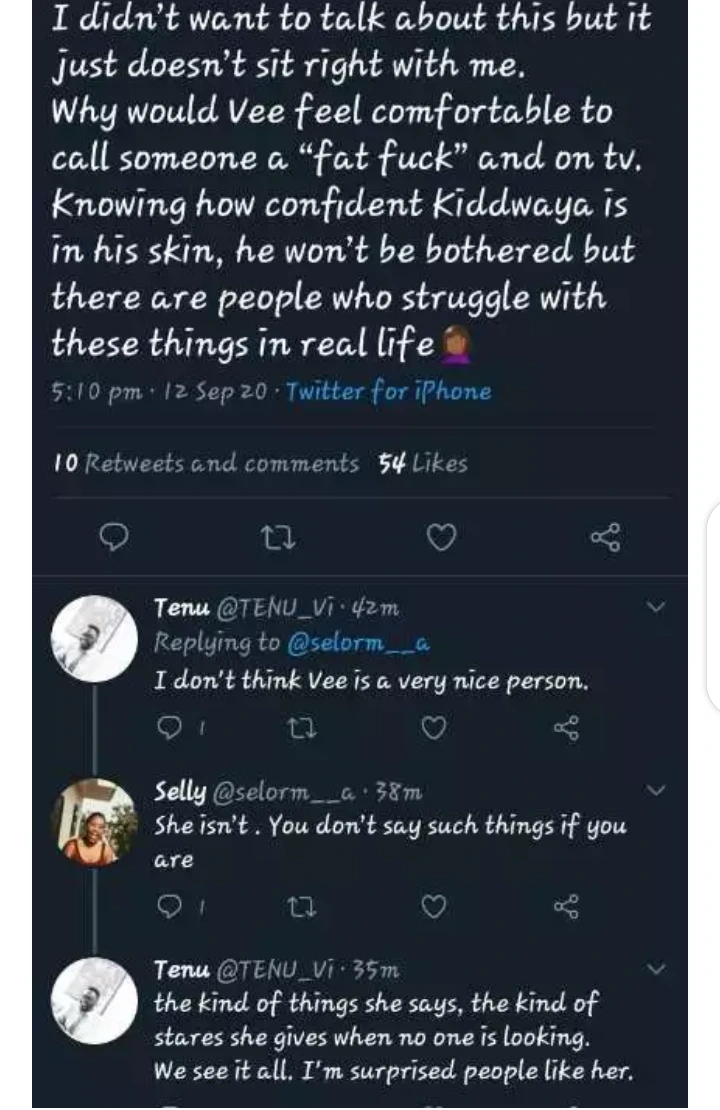 @gust "vee is very rude and bossy, people like her coz she hated Erica, that same Laycon she is claiming to be her friend and brother, she never noticed him until Erica offered Laycon a hand of friendship….she is too rude, if she doesn't change she will not go far in life, it's not a curse."
@Lumis "VEE body shame herself instead because Kiddwaya didn't even notice her, I can't even imagine a young lady with a bitter heart against others, who ever raised her didn't try at all because being blunt doesn't mean you can say anything, stupid girl I just pity Neo"
Gee "vee is rude and who is talking of cos she was not raised here? oyinbo people are the most diplomatic so which oyinbo she learns her own from. Ajegunle oyinbo land wey all Family do community project to make sure say she school for oyinbo land. All her generation can never be like Kidd. how come she doesn't see her two left legs? Iya aje. ma so she goes de eye everybody like witch wey she be. very bitter leaf woman."
@onohnneka "I always see her as a wicked soul. She was the person to look down on Laycon when they first entered the house n Erica showed Laycon Love with Pure hrt. Vee has seen that Laycon carries Grace she's now acting like his Deputy Jesus. She's the most dangerous hsm I just pity Neo."
@Agnes "Vee very stupid n rude with her black mind. Lacks home training despite her stay outside Nigeria. vee n you nothing but a broomstick. I doubt if her relationship wt neo wl go anywhere. Gossip cat."
What can you about Vee, knowing this isn't the first time she's doing that in the house?
Drop your comment in the comments section below.