The world is a scary place to live in for women and children,because some men, not all of them though are on a killing spree and their targets are defenceless young children and women.
It seems like being a woman or girl child in South Africa is worse as everyday you wake up to the horrifying news about either a baby girl, toddlers, teen or even an older woman being brutally killed.
It seems some men believe that women were brought in this world only to be abused and brutally murdered. It seems like they believe that the lives of women and children in this country amount to nothing.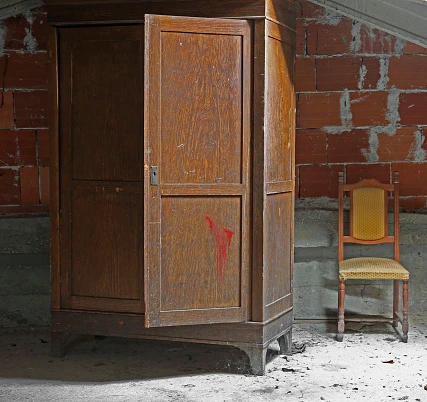 The face of the 9 year old Baby girl started to trend when she went missing on September 1, 2020. According to a Facebook page on Facebook, Bana ba Mozolo (BBM) , Boipelo was last seen with an unknown man who later disappeared with her.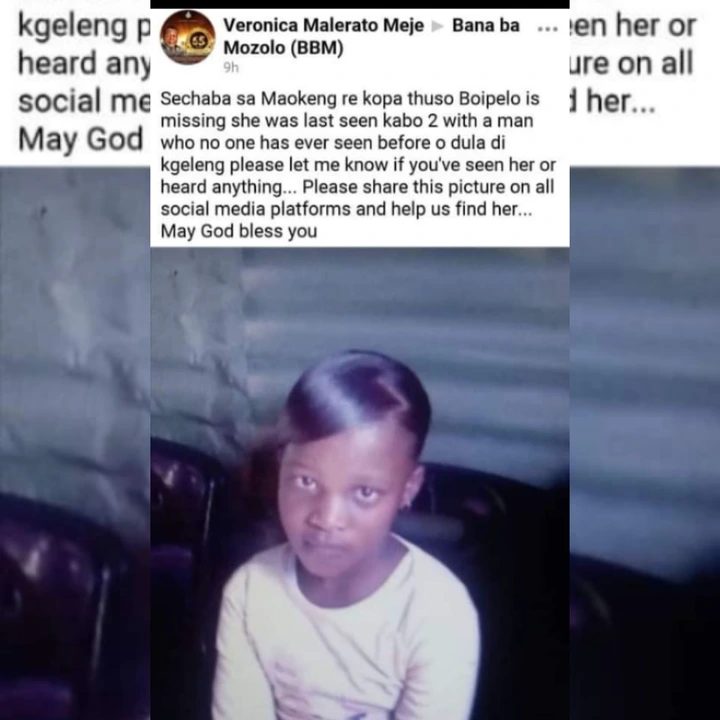 Since then both in social media and in Kroonstad a search has been conducted in the hopes of finding the 9 year old, and bringing her safe to her parents.
A week passed by without finding her, Then it seemed like they'll never find her.
Just after 10 day , children alerted community members (who have been working with the family to find the child) a bad smell which was coming from a shack which is not far from the victims home.
It is alleged that the children were playing in the street when they sensed a bad smell from a shack not far from Bokamoso's home and alerted community members who've been assisting to look for the child.
According to the Facebook page of VrystaatKroon Newspaper, the bad smell which was coming from the shack was caused by the body of the missing little girl.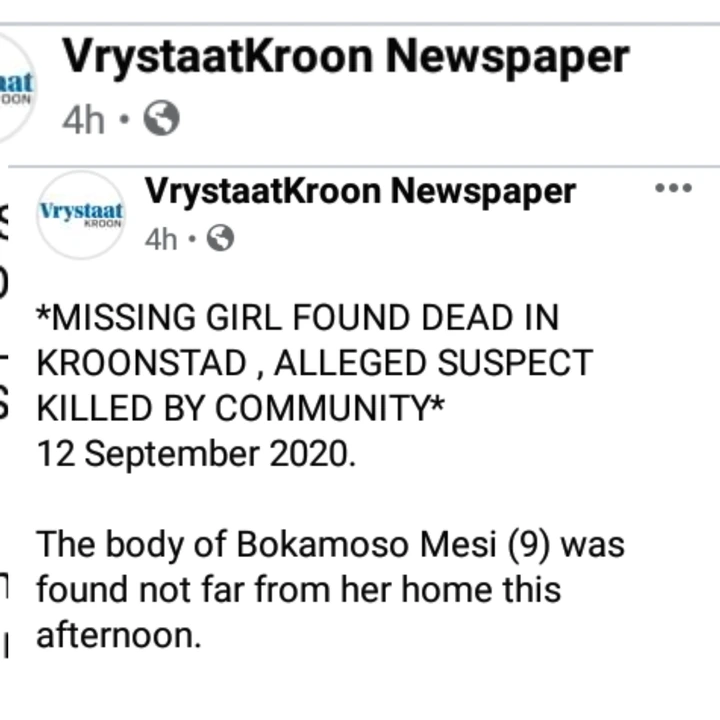 Mesi's body was found inside of a wardrobe with both her hand and feet tied up.
While the community and police officials were still busy at the scene, the man owner of the shack appeared and that's when the fuming community attacked him .
Police officers tried to intervene by calming the community down but they weren't having it. They attacked the police officers too but ultimately they managed to take the suspect out of a volatile situation.
The suspect was later declared dead by the medical emergency services.
Provincial Commissioner , Lt General Baile Motswenyane asked the community to be calm and give the family time to mourn the loss of their family in peace.