A young man has crashed a G-Wagon car he rented and the video of the incident is making the rounds on social media already.
In the video, the red luxury car could be seen parked by the road side after it was crashed by the man, who was said to have rented it to impress a girl.
According to Gistreel, no life was lost from the accident.
As at the time of filing this report, the identity of the driver and the location of the incident cannot be ascertained.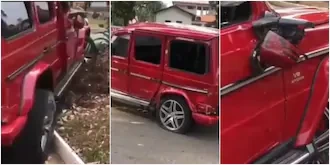 An Instagram user with the handle @mac_rainz took to the comment section of the post to share his thought on the incident.
He wrote:
"No need for fake life, them no go hear. Now see what he has put himself into."
Watch video below:
In other news, some parents have the ability to give their kids gifts that others can't. One lucky lady revealed her parents bought her a car.
On Thursday, September 17, the woman, who was simply identified as Unathi, shared photos of the KIA vehicle on Twitter.
The post was captioned:
"No words can describe how grateful I am. Thank you mom and dad. Whipping girls worldwide."
Twitter user @ThickNack commented:
"Haibo this Kia is showing off, what model is it? Congratulations babe! You are blessed!"
Another tweep @Lwadz_G added:
"Congratulations. I want to be like your parents to my kids."
Social media user @demajestic wrote:
"Congrats, I love this. God bless your parents. I am going to work hard to be this kind of parent, buy nice things for my kids."
Justin Dumela, @Iam_Lukz, said:
"Congratulations, if you need a chauffeur I am available, got degree in driving."
Why some Nigerian youths live fake lives