A Twitter user, Mr Alan has took to his Twitter handle to shared his experience he had with one of his Ex girlfriend.
According to Mr Alan, he met the said ex girlfriend yesterday and surprising to him the girl is married and one thing lead to another the two remember old days, the eventuality happened.
"I met my ex yesterday, she's happily married now but one thing led to one thing and I still nack am.
Once there, forever there is not a myth," he said.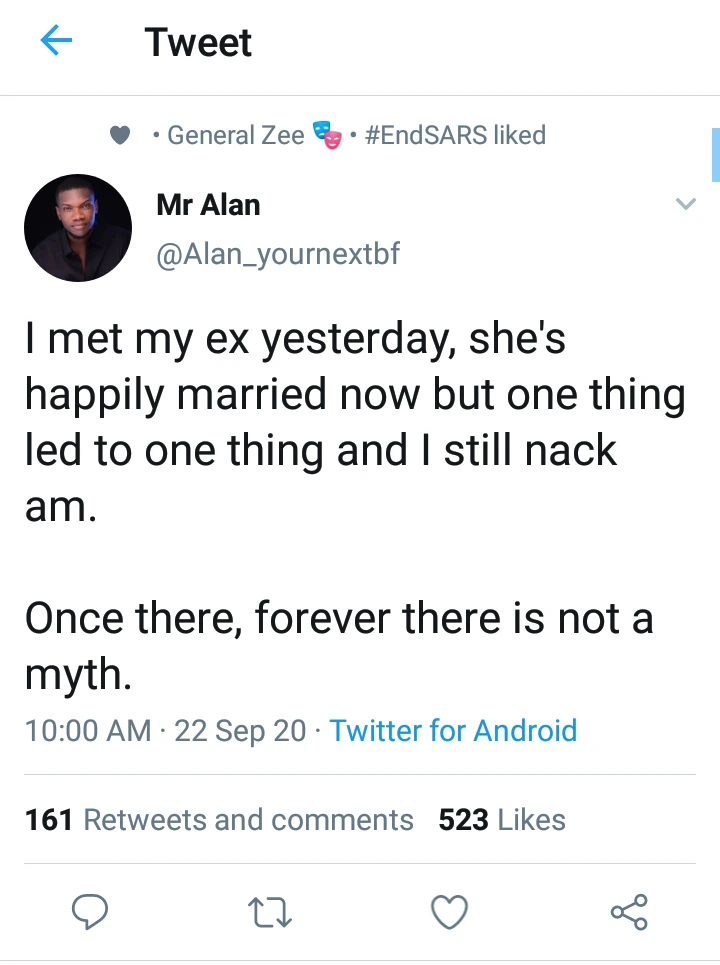 Like the adage said, "Old firewood easy to catch fire," according to some of the replies on the matter, he vividly told one of his followers that there are some ex that you can't resist when you meet them.
But to my own believe what ever a man sow, definitely one day he or she will reap it. He may enjoy it today but he should remember that he will reap his harvest tomorrow.
She may give her body to you because she love you but that does not give you the mind to castrate her in the public because you don't know what she may be passing through after the unwanted incident.
This tweet from this ungrateful fellow should be a eye opener to all ladies out there. If you still love your ex why then did you leave him for another man and if you arr not ready for the terms of marriage then don't dream of it. Don't take because your friends are already married or you want to be first to marry among your peers to get married.
Like some of the reactions he is getting from the post, people are not happy with his behavior knowing fully well that one day, definitely one day he will get married and he will not be happy another man still do what he did to his fellow man's wife.
Like one of the commenters said, "U knack somebody wife and shamelessly admitted and posted it,
One day you will get married and I hope someone does the same to you."
Another commenter said, "She is married, not every married person is happy, she just use u to ease tension because she isn't getting 'hit' the right way at home, don't feel like a champ just close the chapter and move on."
Abel, one of the commenters said, "You said she's happily married and you still had her,
Well, we're not westerners though but we know down here in Africa, one generational curse is already tagged to you. enjoy."